Activities & Development under RUSA
PROJECT MONITORING REPORT
The Principal and RUSA Unit/ Committee members sit periodically to monitor the assess progress of every construction work in the college. The Coordinator is deputed to deal with matters related to office works and also co-ordination with the Executive Engineer P.W.D. (H), education Division and Project Director Higher Education Department. The amount already received from the Project Director was deposited/ handed over to E.E. PWD (H) education Division for implementation of Projects works. The RUSA UNIT also decided to utilize some amount for vocationalization Project.
RUSA: A BRIEF PROJECT REPORT, KOHIMA COLLEGE
RUSA, Kohima College proposed was for construction of toilets for both boys and girls cum a water reservoir on the roof. This Project work was urgently needed to replace the toilets inside the college Building. As experienced in the past the toilets inside the building have become a huge maintaince problem due to scarcity of water, frequent blockages and heavy nos. of students enrolled in the college.
Further, to solve the problem of water scarcity during dry season, to construct a water reservoir on the roof of the toilets become a necessity, where the rain water from the main building will be channeled into this reservoir to be used during the said period. The project till date is almost nearing completion.
Progress Report on Vocational Programme in Horticulture under RUSA, Kohima College, Kohima
50 students from 5th semester class have been enrolled for Horticulture course as per the DPR submitted.
Introductory class on erecting awareness and motivating the students on the importance and scope of floriculture conducted.
Site leveling and fencing works completed for first phase plantation with students participation.
Manure procured and flower saplings and seedlings ordered from a local nursery.
A unit of Poly green house and flower bulbs, an application submitted to the Horticulture department Nagaland for the inclusion in 2015-2016 budget.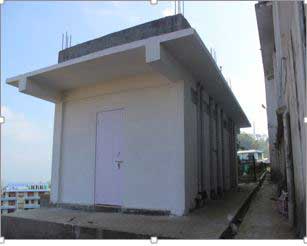 Completed RUSA Toilet Project both for boys & girls outside the college premises.
VOCATIONAL TRAINING CENTRE (TEMPORARY FLORICULTURE UNIT CONSTRUCTION)