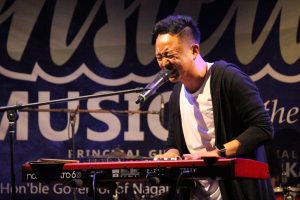 A musical concert themed "Constellation-Music with the Stars" was held as a part of the Inter-Government College Olympic 2019 organized by the Department of Higher Education, Nagaland, in collaboration with Music Task Force and Audio Garage, this evening at the host college, Kohima College, Kohima.
The hon'ble Governor P.B Acharya graced the occasion as the Principal Guest. He congratulated the H&TE Minister Shri Temjen Imna Along and Dr. I. Anungla Aier, Director, Dept of Higher Education for organizing such a purposeful program for the students. He stated that Nagas are talented but have less canvas to fully empower themselves as there are less opportunities. He further added that " Knowledge is great, but knowledge with empowerment is powerful & Empowerment by Education is the most powerful empowerment". He also stated that the strength of our country is our population, as 63% of the population is our youth. He further stated that Nagaland now requires skill-based education and said that he hopes for an economically strong and independent Nagaland.
Speeches were also delivered by Shri. Kazheto Kinimi, Advisor, Skill Development, Labor and Employment, CAWD, Nagaland who graced the occasion as the special invitee, and Shri. Temjen Imna Along, Minister of H&TE and the Chief Patron of the Inter Govt. College Olympic 2019. The welcome note was delivered by Dr. I. Anungla Aier, Director, Dept. of Higher Education. Vote of thanks was delivered by Dr. Hovithal Sothu, Director, Music Task Force. The function was also attended by other dignitaries of the state.
The stars of the concert were EaSTORY, Alobo Naga and the band, Mengu Suokhrie, Everpresence, Ayim Longchar, Adonu Khamo and Paramount, the Kohima College band.